Thailand
June 30th 2013, 4:48:00 pm
My first day in Thailand I flew into Koh Saumi and got a minibus transfer to Chaweng beach. After looking at a few places that seems pretty average for the price, and generally remembering how nasty Chaweng was, I found some free wifi and looked up some places on Trip Advisor and decided to head to Lamai beach and try a few places there.
After having a few taxi's try and ask for ludicrous amounts for the trip to the first place on my list, claiming that the place I wanted to go was way past Lamai, I finally got a motorbike taxi who would take me for a reasonable price... until one of the asshole taxi drivers came over and told him that the place I wanted to go to wasn't in Lamai. But what I do know, I'm just a stupid foreigner who's got the address here stating it's in Lamai, and Google maps showing me it's there. In the end he agreed to take me for 50% more then we'd originally agreed, and I was fed up screwing around so I accepted.
Riding on the bag of a motorbike with a reasonably heavy pack making you back-heavy isn't all that fun, I spent the ride holding on like my life depended on it because it, no helmets for passengers in Thailand :/
Some ominous dark clouds overhead started to dump down half way to Lamai so we stopped under the awning of a 7-11 for half an hour until it eased up (but didn't stop) and then rode on. As the sun was setting we went past a nice beach which I would later find out was Lamai, where I would end up staying, but first we needed to ride for another half hour off to the middle of nowhere to a place that had a similar but different name. Along the way the driver would stop and ask people on the side of the road direction, I'd show them the map on my phone indicated we'd passed it already and they'd tell the motorbike driver that it was still further on.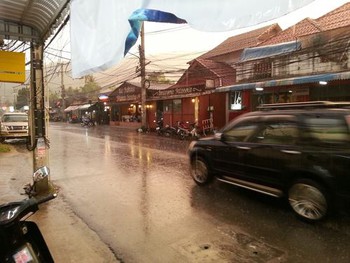 We finally got to the place that and I asked to lady at reception to please explain to the driver this was the wrong place, which she was amazingly helpful in doing so. So back on the bike in the rain for half an hour back in the other direction and I finally got to the first place I was planning on looking at. It was already 8:30pm so I didn't bother looking elsewhere. I paid the motorbike driver and he asked me for more "for the extra driving". I told him no way in hell, he'd already charged me 50% more and wasted most of my night taking me to the wrong place and ignoring me telling him we'd gone past it.
The place was a pretty nice enough resort, not too crowded and almost entirely touristed by Germans. I spent a day just lazing around reading and relaxing in the cool sea breezes, a lovely contrast to the heat of Cambodia. Funnily enough I ate dinner that night at a market of street food vendors with a Welsh couple who had lived on Koh Samui for a few years now, who complained that it was too hot to do anything during the day and were out having a ride around the island at night because it was the only time they thought it was cool enough.
That day in Samui has changed my opinion of the place quite a bit. I still think Chaweng is an awful shithole, but Lamai seemed like a much nicer place and I would have happily spent quite a bit more time there. Maybe it was just because it was low season, but it seemed way more relaxed, and a lot more beautiful at Lamai and it makes me want to see what other parts of the island are like. Next time I guess!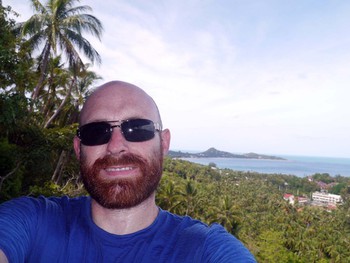 The next day I got the ferry to Koh Tao, and had a hard time trying to find any accommodation in my budget at all, let alone a nice place. I didn't realise at the time, but the full moon party had happened on Koh Pha Ngan the weekend before I arrived, after which the throngs of party goers flooded the nearby islands booking just about everywhere. Fuck full moon parties.
I found a "resort" that actually had a free room, but to call it a resort would be far to generous. The room was only half finished, nearly completely bare and very overpriced. There were no screens on the windows and it only had a fan, not a great combination for someone who mosquitoes love. To top that off, I seemed to be the only tenant.
I went to the Koh Tao Central Hostel, and met one of the guys who run the place, Rolf, and he gave me a quick tour of the hostel which was significantly cheaper than where I was, was air conditioned, was only new (so everything is working and clean) and actually offered the chance to meet people, so I got myself booked in for the next available night.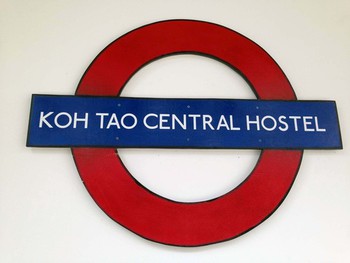 I had a drink and wrote some stuff in my book at a bar over the road. While I was there a nice girl named Lianne sparked up a conversation and I found out she was learning to dive with crystal, the place I originally got certified at. She asked about accommodation, already planning where she'd stay after the free accommodation from the course ran out, and I gave the hostel a plug. A bit later after she'd left Rolf from the hostel came over and had a beer, wanting to know how I'd found out about the hostel and if I had any ideas for the place. Apparently it only opened a few weeks earlier, and he was quite keen to make it a success so he was asking for feedback or improvement ideas pretty much every time I saw him.
I started diving with master divers, the no. 1 rated outfit on Trip Advisor. It seemed priced a little bit high, but the price came down retrospectively the more dives you did with them. The staff there were lovely, but because they were a small shop and it was low season the boats only go out once a day, and mostly to open water suitable sites (almost nothing deeper than 18M).
After a few days I decided to seek out shops day to day, based on where there boats were going. I went back to Crystal where I first learned to dive and got to Dive Chumphon Pinnacle, one of the nicest sites in Koh Tao, and the HTMS Sattakut a scuttled navy war ship. Saw loads of yellow tail barracuda, titan trigger fish, banner fish, angel fish... the list in my log book is too long to keep going.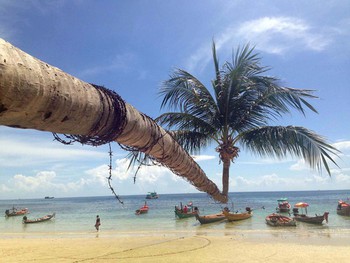 The day after I booked in with another little shop who were doing their weekly run out to Sail Rock, which is said to be the best site in the area, but it's a 2 hour boat trip to get to so the shops don't go there so regularly. Sea-sick tablets kept me feeling fine for the whole trip, the two dives there were awesome, although the visibility was much worse than anywhere closer to Koh Tao.
The next shop I went to were once again going to Chumphon and Green rock. I managed to spot lots of very tiny sea-life on the rocks, and a few juvenile banner fish which were so damn cute. The staff were all super friendly and I expressed interest in going to South-West pinnacle, and they told me it was pencilled in for 2 days time so they put my name down for that and locked in that as the site for that day.
South-West was where I did my first deep dive during my Advanced Open Water, and revisiting it was just as I remembered it. A huge pinnacle covered in anemones, swarming with pink clown fish. We dropped right down to just above the sand and circled around a bit on the sea floor and managed to find some Cobias (They look like sharks, except they're technically a fish).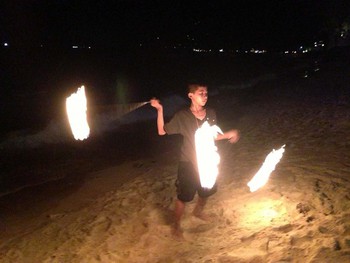 I liked the shop a lot and had been thinking about getting a few more certifications (since they're cheap on Koh Tao, and could be useful diving elsewhere), so when I found out they had a package for the very 3 specialities I'd been thinking about, plus accommodation at a cheaper price than anywhere else I'd been I decided it was meant to be. I did the 6 dives over 3 days and got my Deep speciality allowing me to go to 40M, my Nitrox speciality allowing me to use Air enriched with extra oxygen allowing longer dives without decompression, and my wreck speciality, allowing me to explore inside of wreck and taught me how to lay line in order to find my way out again in case of complete loss of visibility.
I'd originally had vague intentions of diving on Koh Tao for 6-7 days, then heading to the Phuket side for the remaining part of my time, but after hearing how bad the weather was from a few people, and peoples general dislike of Phuket from a few people I ended up staying on Koh Tao for "just one more night" until the very day before my flight out, and got the night boat and a bus to get to Phuket and head straight to the airport.
The night boat was quite an experience! You show up and give them your ticket and they assign you a "bed", where the beds are numbered mattresses on the floor on either side of the boat, barely wide enough to lie down flat on without touching the shoulders of the person next to you. I got bed 1, which meant I only had a person on one side of me and some railings on the other side. I had a Valium and read for a while before getting drowsy and donning eye shades (best thing ever for a traveller, I got fancy shaped ones of ebay for $3 that don't actually touch your eyelids and black everything out) and promptly drifting off to sleep.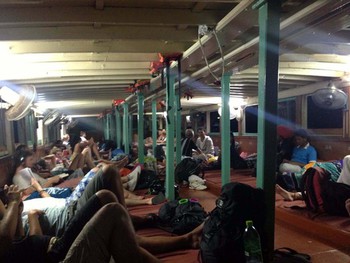 I woke up a few times throughout the night and my gosh were the seas choppy. It felt like the boat was swaying around quite considerably and at one point a big wave hit the side of the boat and came in some of the windows at the other end, resulting in some suddenly awake screams of shock from some people who got wet by it.
I noted at one point that I could see a few life-jackets, but also that I could see that the number I could see was far less than the 70-80 odd people on board. That's the sort of thing you notice and then try to ignore.
We arrived at Surat Thani safe and sound, and early! There was a minivan that took us too a bus stop where we waited for an hour. A tuk-tuk/jeep thingy finally arrived to take the passengers to Phuket, thankfully only for about 10 minutes to another shop where we could buy breakfast and wait for another hour for the bus.
The actual bus arrived, a nice coach, and proceeded to drive for another 10 minutes before stopping "for more passengers" (who never turned up) for another hour! Once we finally left there we continued on with no more stops, and the bus was so empty that I was able to lie down flat on one of the bench seats towards the back and sleep for a lot of the journey.
We arrived in Phuket town bus station, where it was pissing down with rain. I asked about shuttles to the airport and was told they left from further in town but I could get a taxi for nearly as much as the whole journey from Koh Tao had cost me.
I went and got some lunch and waited for a few hours but the rain didn't ease up, and I didn't find anyone else wanting to go to the airport, so I eventually got a Taxi there myself.
Check-in was a bit of an ordeal. I'd looked up what desks were supposed to be for my flight to India, got a trolley and waited there reading, expecting to be first in line. As I waited, probably 100 noisy Indians in very large groups arrived, with mountains of luggage and flat screen TVs, and queued up at desks, but none of them behing me. I should have realised something was up, but I went and checked the screen a few times and the desk I was at was definitely supposed to be for my flight.
When the info finally came up on the screens above the desks it turned out my line was business class. Bugger! I figured I was screwed either way so I kept waiting there for the gates to open in the hope they might check me in anyway, but after they finally started checking in people, there was no staff member for the business class desk anyway, so I had to go to the back of the line; no offer from the huge groups who'd queue up well after me to check in my single passenger with a single bag.
After waiting for a while in a line that didn't move (it takes a long time to check in a group of 20) I got fed up and wandered over to the queueless desks for the same airline I was flying with that said "all flights" above them and asked if all flights included my flight, which seemed to had been singled out with its own desks for some reason.
I was extremely happy to find out it did, so I snuck back and grabbed my bags from the other queue and went and checked straight in, finishing before even the first group from the long queue was done! Huzzah for being observant and asking questions. Emergency row with extra legroom to boot!
Onward to India!